The Venus of Laussel is a limestone bas relief of a nude woman displaying the horn of a wisent in one hand, while she gestures toward her swollen belly with the other. It is about a foot and a half tall, or, to use the more precise measurements of the Musee d'Aquitaine where it is now displayed, it is 54 by 36 by 15.5 centimeters. Though it is plainly a human woman, it has no face. The breasts and vulva are accentuated, and the thighs and belly are oversized.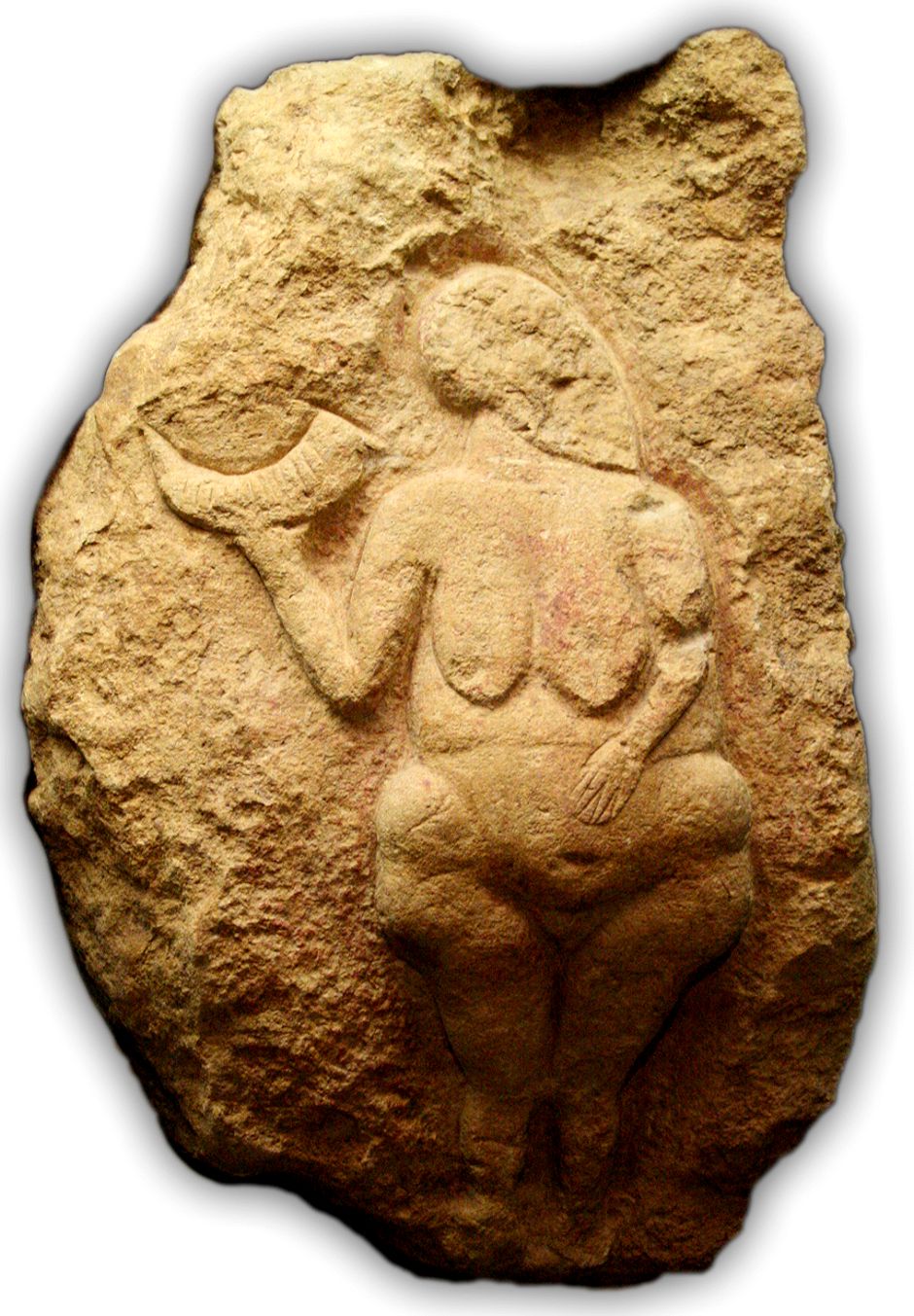 History
A sculptor carved the Venus about 20,000 to 25,000 years ago with flint chisels. It was  painted with red ochre, and visible traces of the paint remain. The person who carved it was probably part of the Gravettian culture of the Upper Paleolithic, which left many artifacts we call Venus statues through Europe, and was also responsible for paintings nearby.
This Venus stood in the wall of a rock shelter that seems to have been inhabited as well as used for ceremonial purposes. A rock terrace about 300 yards long is set under a sheltering overhang, with a distant view of the valley below.
The horn the statue holds is believed to be from a wisent, also called an auroch, a heavy species of buffalo still found in Europe. The horn is notched thirteen times. The significance of the notches is a mystery. The number may refer to the lunar months of the year, to the days of half the moon's cycle, or, symbolically, to menstruation.
It may not be intended to represent a horn at all, but a cornucopia, a symbol of abundance, which in the Greek myth was derived from a goat's horn, and which may be related to myths about unicorns and the holy grail.
The bas relief was discovered in 1911 by Dr. Jean-Gaston Lalanne. A psychiatrist interested in archaeology, he conducted excavations in the area beginning in 1908. Along with the Venus, other carved blocks were found, some with similar female figures, and one a male, now called "the hunter." The Venus was first preserved in a small private museum of Lalanne's. In 1960 Lalanne's family generously donated all of his collection to the new archaeological museum in Bordeaux, which became the Museum of Aquitaine.
Significance
The bas relief is Gravettian. Scholars believe this because its style follows Gravettian conventions: it lacks a face, the feet are small, the sexual characteristics are exaggerated. It was found in a layer of Gravettian age. Therefore, this example probably illustrates whatever the Gravettian culture in general was trying to express or accomplish with these sculptures.
Opinions differ about what that purpose was. The Venus of Laussel may be a portrait of a priestess beginning a ritual. It may be a fertility goddess, as indicated by the figures lush figure and possible pregnancy. Together with the other figures found at the site, it may be a piece of hunting magic, intended to weaken the prey and strengthen the hunter's hand.
Joseph Campbell points out that the thirteen tally marks on the horn may relate to menstruation. Alexander Marshak refers to the lunar calendar. D. Huyge makes an appealing case for an idiophonic scraper, here, that would make magical music. At the same time, he remarks that at this distance we will never know.
The statue could be pornography, be an idol, or work as a lucky charm. It seems to have no use, which might make it art.
What if it had a practical purpose though? What if it was a sign? It could, for example , welcome women and warn off men. A clue to the purpose of the place it advertises could be the blood red ochre with which it is painted.
Blood is frightening. It signifies pain and death, especially when there is no medicine.
How much more frightening is blood that appears without cause, drawn out, who knows, by the moon in its cycle, polluting perhaps anything it touches, causing death perhaps, as the sight of blood in that age preceded quick death.
Many primitive societies secluded women. At their first menstruation strictly, and less stringently later. Female seclusion was religiously endorsed, and still is, on the pretext that women are unclean, not only unhygienic but dangerous. Some societies still constrict and confine their dangerous women.
The Venus of Laussel was carved on a wall on a high terrace, away from settlements. She was painted red with ochre. She could have been a sign, a notice, that here women should stay until they were clean again. She could even have been carved by a series of inmates here.
It is certainly true that certain cultures still seclude their women. Could this be an extension of the menstrual seclusion? We are not speaking of small inconsequential cultures. Large successful societies still seclude women, finding them both dangerous and fragile, sinful by nature and yet simultaneously too innocent be let out in the world, and often unclean.
We cannot know what the carver or carvers of this Venus thought, though we can guess, based on what modern people think and do.