For travelers from abroad, one of the pleasures of visiting France is to enjoy wandering through a traditional French market. And why not! The market , "le marché", is an integral part of life in virtually all French towns and large villages, so much so that even today the market can be seen as a well-surviving part of France's historic heritage. In countries like the UK and the USA, the market is largely a tradition that has been revived, in the form of "farmers' markets"; in France, the tradition did not need to be revived, as traditional fruit and vegetable markets, as well as markets offering a much wider array of stalls, have always remained a part of life in France. The market, as a source of fresh fruit and vegetables, is an integral part of France's famed tradition of good eating, and is one of those French traditions that  never died. And for that reason it is as authentic an experience as one can wish to find.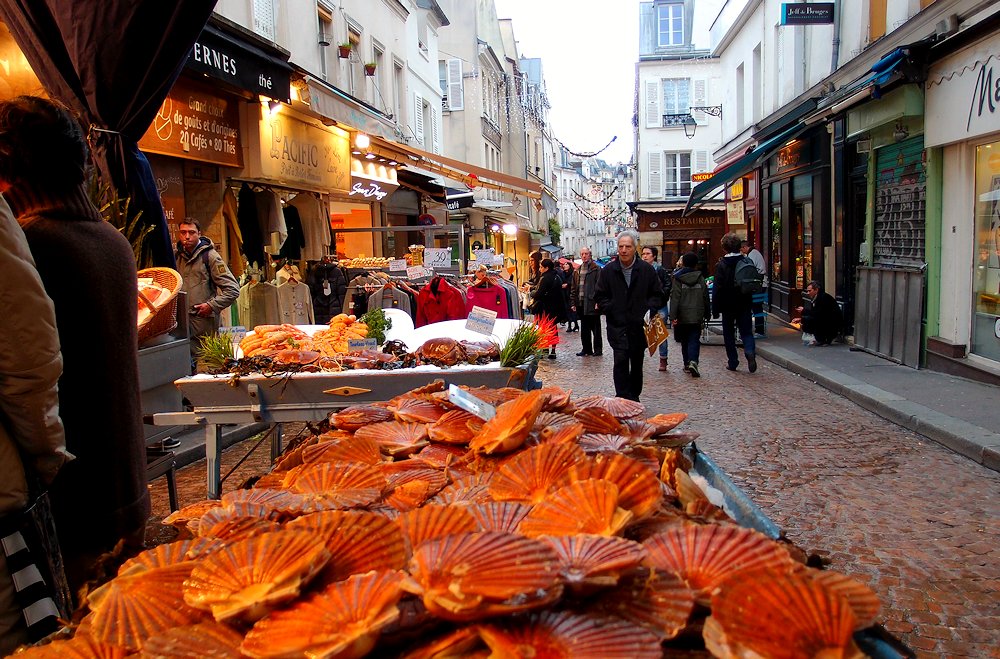 Most towns and large villages have a large market once a week; but in larger towns, markets may take place twice a week, or even every day.  Typical French markets  are a mix between the farmers' market and a traders' market, with stalls offering local produce straight from the farm standing alongside fruit and vegetable stalls, cheese stalls and other stalls offering a full range of produce.
The largest markets in provincial France are often known as fairs (foires) : as in the olden days, French fairs are traditional extended markets that take place perhaps once or twice a year, on the local saint's day for instance. In a few places, they take place once a month. Most of them used to be livestock markets, but that aspect of them has largely disappeared; today they are expanded versions of large weekly markets that attract more traders from a wider area; there will usually be an eclectic and colourful array of ironmongers, clothes stalls, large organic produce stalls, craft stalls, plus the normal range of fruit and vegetable sellers and much more. In rural areas, there is often a small funfair too.
Foires are big events in a local calendar, and it is always a good idea to check with the local tourist office to find out when they take place.
Virtually every French town has its covered market (marché couvert), which is a permanent structure, occupied by an array of market stalls; in a classic "marché couvert", sometimes called "les Halles", most of the stalls will sell fresh fruit and vegetables, and some of the stall-holders will also be local market-gardeners, selling their own produce among other products imported from further afield. There is often a cluster of good restaurants to be found close to the covered market in a French town, and chefs will each morning pay a visit and bring back boxes of the freshest fruit and vegetables. Other stalls are likely to include butchers, bakers, and delicatessens offering specialities from other countries such as Vietnam, Spain, or Italy.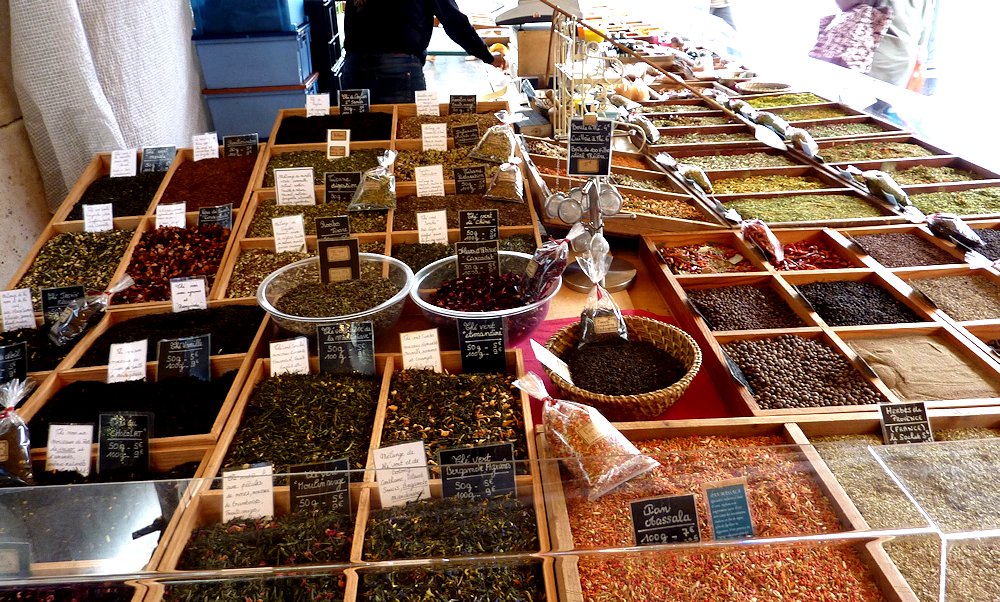 Large weekly markets are attended both by local stall-holders, and by a range of specialised traders who will set up their stall on a different market each day of the week. Very often, the larger town in an area will have its weekly market on Saturdays, and smaller towns will have theirs on other days; in these smaller markets, the number of itinerant stall-holders will depend on the number of other markets on the same day within their area, and the relative interest of each of these markets.  Thanks to these itinerant stallholders, larger weekly markets have a rich range of specialised stalls, offering organic vegetables, food specialities from the region or from other countries, olives and Mediterranean specialities, tools, clothes, second-hand books, garden plants, wine straight from the producer, honey and a lot more.
A few markets, notably specialised markets, have acquired a national reputation; there are wine markets in Bordeaux, and famous gastronomic markets in Perigueux, the heart of French truffle and foie-gras country. But generally speaking, markets are a local or regional event, attended by local producers, craftsmen or traders, and as such they are not the type of event that has any reason to acquire a national reputation; markets are just a part of the French way of living.
Obviously, it is fruit , vegetables and local produce in general that are the mainspring of most markets, and the smaller the market, the more it will tend to be an outlet for local producers. In rural areas, it is still possible to find markets where small farmers sell just their own produce – potatoes, vegetables and fruit in season, flowers, perhaps farm-produced cheese, home-made bread, eggs, and even a living rabbit or two, or week-old chicks. Although the number of small farms in France has fallen dramatically in recent decades, there is still an elderly generation of smallholders ("paysans") who attend weekly markets in the way they have been doing for the past thirty or forty years. Yet in spite of France's attachment to its rural heritages, the smallholders selling their produce at a weekly market are survivors from the old rural way of life which is fast vanishing. It is unusual to see young smallholders on a market in rural France, and while the market itself, as a tradition, is not under threat, the nature of small rural markets is changing, as is rural France in general. In twenty years' time, there will still be plenty of markets in France; but will there be as many, and will they still be rich in tradition as they are today? That is less sure.
Market days in the Dordogne
Agonac : Saturday 
Beaumont : Tuesday, Saturday 
Belves : Saturday 
Bergerac : Saturday, Wednesday 
Brantome : Tuesday, Friday 
Cenac : Tuesday 
Cubjac : Friday 
Daglan : Sunday 
Domme : Thursday 
Eymet : Thursday 
Excideuil : Thursday 
Issigeac : Sunday 
Jumilhac : Wednesday 
La Coquille : Thursday 
Lalinde : Thursday 
La Roche Chalais : Saturday 
Le Bugue Tuesday 
Le Buisson – Cadouin : Friday 
Les Eyzies : Monday 
Mareuil : Tuesday 
Monpazier : Thursday 
Montpon : Wednesday 
Montignac : Saturday, Wednesday 
Mussidan : Saturday 
Neuvic : Saturday, Tuesday 
Nontron : Saturday 
Perigeux : Saturday, Wednesday 
Piegut : Wednesday 
Razac : Saturday, Wednesday 
Riberac : Tuesday, Friday 
Rouffignac : Sunday 
Salignac-Eyvigues : Tuesday 
Sarlat : Saturday, Wednesday 
Sigoules : Friday 
Sorges : Sunday 
St Aulaye : Saturday 
St Astier : Thursday 
St Cyprien : Sunday 
St Genies : Sunday 
Terrasson : Thursday 
Thenon : Tuesday 
Thiviers : Saturday 
Tocane : Monday 
Tremolat : Tuesday 
Vergt : Friday 
Villefranche du Perigord : Saturday
Looking for accommodation in the Dordogne ?
B&B Ferme de Tayac, lovely 12th Century buildings, once monastery and farm. Its one meter thick walls, oak beam structures, and rooms carved out of the rock, make it a wonderful place to stay whilst you explore this fascinating part of the Vezere Valley. Your stay will be enhanced by the friendly hospitality and homely comfort offered by your hosts Suzanne and Mike. You will enjoy the pleasant garden, the refreshing swimming pool, and maybe the occasional five minute stroll into Les Eyzies, famous as the "Prehistoric Capital of the World" It is here that Cro Magnon man our ancestor made it one of the richest and most exciting of archaeological areas.
Ferme de Tayac is an ideal place to use as a base to enjoy the area and the best local markets – www.fermedetayac.com