The Dordogne has more than 4000 miles of marked trails, and this number is increasing as all the trails are being connected. In theory you could visit almost every single town and village in the Dordogne, no matter how small just by using the trails.
Les Eyzies de Tayac, in the heart of the Vezere Valley is without doubt the mountain biking capital of the Dordogne. From Les Eyzies, you will have unlimited trail options and possibilities, from an exciting 2 mile loop, to a never ending mayhem epic of the whole Dordogne region. The great thing about mountain biking in this area is the fact that you can ALWAYS loop your ride. The choice for MTB'ers here in Les Eyzies is never ending.
Another huge bonus for using Les Eyzies as a base, is the fact that you are in the heart of the Vezere Valley, the Prehistoric Capital of the world. Theses are the oldest trails in the world, dating back more than 460,000 years. Prehistoric caves, shelters, over-hangs and troglodytes will all be part of your ride. Just 2 miles from Les Eyzies you can experience the Dordogne Valley with all the Medieval  towns & villages, castle's and forts, bastide's and strongholds. 3 miles in another direction and you can enjoy the trails of the Beune Valley, the valley that combines both Prehistoric and Medieval.
The trails that leave from Les Eyzies offers everything a mountain biker could wish for, from fast flowing single tracks to technical rock gardens, from  fast downhill sections to grade 5 downhill sections. Is does not matter if you are a full body armored downhiller, or weekend trail warrior, Les Eyzies has it it all.
Trail tips and info
Best place to start and finish : park your car and start at the fortified church of Tayac, just up from the train station. numerous trails can be started here
Trail Maps : unless you really know the area, you WILL need maps, to get the best riding experience, we suggest the following maps : Les Eyzies – St. Cyprien- Sarlat – Montignac
Dordogne MTB Trail Info : for more info about the Les Eyzies, Vezere Valley and Dordogne MTB Trails visit www.mountainbikingdordogne.com
Trail Tip : almost every town and village in the Dordogne has a cemetery, and every cemetery has water – if you ever run low on water, find a cemetery.
Les Eyzies MTB  Trail : Beune Valley – Commarque
Les Eyzies MTB  Trail : Fusion Trail – Vezere meets Dordogne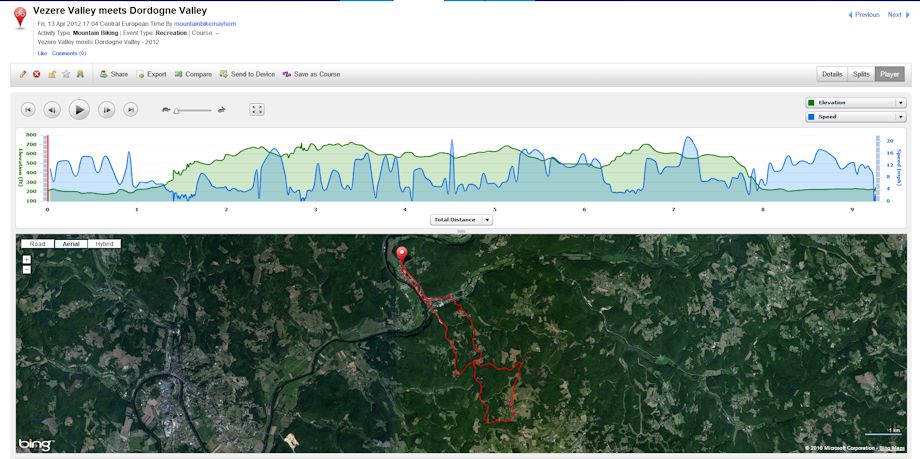 Les Eyzies MTB  Trail : Ode to the Cro-Magnon – La Madeleine
Les Eyzies MTB  Trail : Ring of Les Eyzies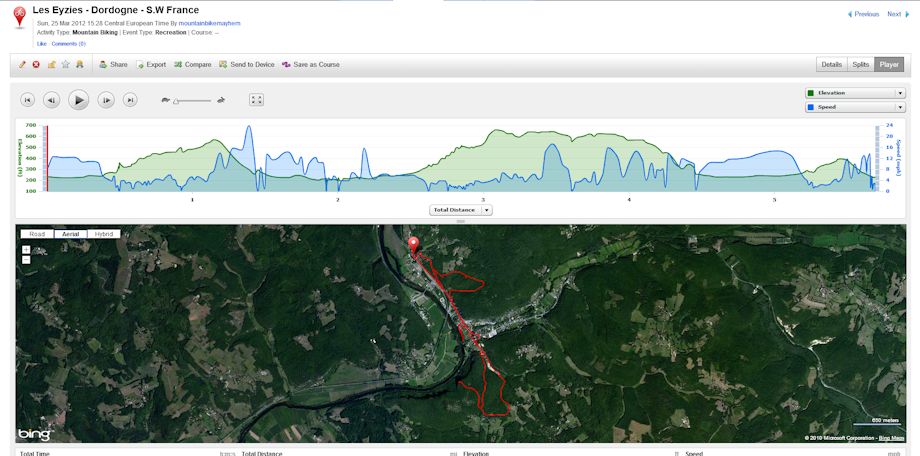 Les Eyzies MTB  Trail : Neanderthals Revenge
Les Eyzies MTB  Trail : The Valley of Revenge